To Play or Not To Play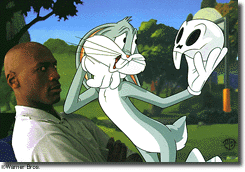 Warner Bros. premiere feature animated film hit the courts, er…the screens in 1996 inspiring a select few limited edition works of art, each one eagerly sought after by collectors. In this recreation of a classic Bugs moment from the film, sports legend Michael Jordan is not exactly convinced to join the Toon Squad by Bug's classical theater training as he recites Hamlet.
The digitally composed background features Michael Jordan, produced using the fine art lithographic process. Jordan is recreated from an actual scene in the movie then combined with a hand-painted cel of Bugs, also recreated from the scene.