The Flintstones: The Most Beautiful Babies In Bedrock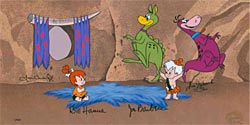 As the Flintstones and the Rubbles are set to wage a prehistoric war to see which couple has the cutest kid in town, Pebbles and Bamm-Bamm seem blissfully oblivious. From the episode by the same name, this wonderful recreation of the classic 1964 moment also features the favorite pre-historic pets Dino and Hoppy. The success of the Flintstones prime-time series paved the way for future animated shows and became one of the longest running series in history.
This fabulous Hand-painted Limited Edition Cel is based on artwork created by small screen legends Bill Hanna and Joe Barbera, and is signed by Hanna, Barbera and voice legends Don Messick and Jean Vander Pyl.