Pussyfoot 1951 by Chuck Jones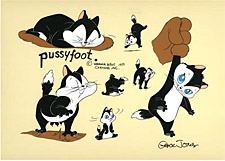 Everyone knows this precious little powder puff as the adorable Kitty befriended by the snarling bulldog Marc
Antony in the classic 1952 cartoon 'Feed The Kitty'. Based on the classic animation art of Chuck Jones, this edition captures the various looks and poses of Pussyfoot in a re-creation of the the original Jones model sheet as a hand-painted cel featuring the cuddly kitten. Each work of art features the Estate Signature of Chuck Jones.