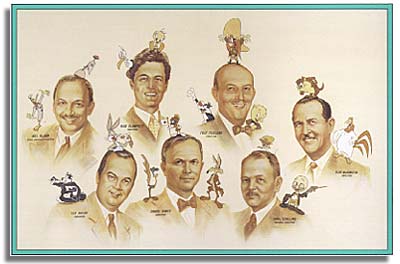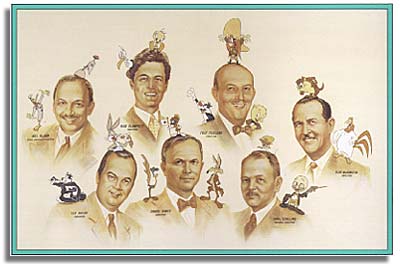 The Masters Of Warner Bros. Animation worked in a run-down back lot building known as 'Termite Terrace'.
Warner Bros. emerged by the 1940's as the dominant studio in animated short subjects, a result of the extraordinary
talent of the directors, animators, voice talents, writers and musical direction of their production units.
Tex Avery
Fred "Tex" Avery joined the Leon Schlesinger studio as a director in 1935. Leaning away from imitation Disney cartoons
every other studio in Hollywood was producing, Avery made fun of animated cartoon traditions, lampooning fairy tales and creating off-beat
wise guy characters. Avery introduced Daffy Duck in 1937, and directed 'A Wild Hare' in 1940, the cartoon which crystallized the personality of
Bugs Bunny. Though he left the studio in 1942, his wacky attitude continued to be an inspiration to Warner Bros. animators for years to come.
Mel Blanc
The voice of Bugs Bunny, Porky Pig and Daffy Duck, actor Mel Blanc performed all of the classic Warner Bros. characters
from 1937 until his death in 1989. Signed to an exclusive contract in 1941, Blanc's amazing voice characterizations also included Foghorn Leghorn,
Pepe Le Pew, Marvin The Martian, Tweety, Sylvester, Yosemite Sam, and the Tasmanian Devil.
Bob Clampett
Bob Clampett's reputation for directing the zaniest cartoons during the golden age of animation is legendary. Beginning as an
artist on the earliest Merrie Melodies cartoons, Clampett moved through the ranks to become a top animator in 1934 and a director in 1937. Instrumental
in the development of Bugs Bunny, Daffy Duck and Porky Pig, Clampett created many mainstay characters such as Tweety, Beaky Buzzard, Gremlins, and the
Do-Do.
Friz Freleng
Isadore "Friz" Freleng began his career in animation for Walt Disney in the 1920's and joined Warner Bros. in 1930, receiving
screen credit on their very first cartoon 'Sinkin' In The Bathtub'. Though he specialized in musical cartoons like 'The Three Little Bops' and
'Rhapsody In Rivets', Friz created characters like Porky Pig and Yosemite Sam, and was instrumental in developing the personalities of Daffy Duck,
Speedy Gonzalez, and Tweety & Sylvester. Freleng's cartoons have won a total of four Academy Awards®, including Bugs Bunny's Oscar-winner,
'Knighty Knight Bugs'.
Chuck Jones
Jones began his career in the early 1930's as a cel washer at Ub Iwerks studio. Advancing to animator at Warner Bros., under the
direction of Tex Avery, Jones worked on the earliest Porky Pig cartoons. Promoted to Director in 1938, Jones was instrumental in developing Bugs Bunny,
Elmer Fudd, and Daffy Duck as well as setting the fast-paced tone of Warner Bros. cartoons in general. Among his other creations, Jones is well-known
for the Road Runner, Wile E. Coyote, Pepe Le Pew,
Michigan J. Frog and Marvin The Martian.

More about Chuck Jones.
Robert McKimson
As the creator of the Tasmanian Devil, Foghorn Leghorn and Hippety Hopper, Robert McKimson was one of the chief wizards behind
the classic Warner Bros. cartoons. During his career, McKimson earned praise as one of the studio's best animators and character designers, and he piloted
many of your favorite cartoons starring Bugs Bunny, Daffy Duck, Porky Pig, Speedy Gonzalez and Sylvester.
Carl Stalling
The musical soundtracks of Carl W. Stalling have become almost as famous as the Warner Bros. cartoons themselves. Stalling composed
music for Walt Disney and Ub Iwerks before joining Warner Bros. in 1937, where he remained until his retirement in 1957. His scores combined popular songs,
obscure tunes (most notably from Raymond Scott), classical music, and his own original compositions into abstract, fast-paced arrangements which
perfectly fit the zany moods of the cartoons.