The Art Of Peter Ellenshaw: Rescuing Piglet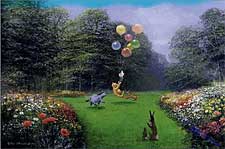 Peter Ellenshaw contributed his movie-making artistry to the films of Walt Disney for over 30 years. As a master of matte painting, you have seen his artistry in 'Treasure Island', '20,000 Leagues Under The Sea', 'Mary Poppins' and 'Bedknobs and Broomsticks'. Ellenshaw won an Academy Award for his work on 'Mary Poppins' and his art has earned him worldwide praise by art connoisseurs for his unique vision.
This fine art Limited Edition Giclee on canvas conveys the rich color and remarkable detail of Ellenshaw's original painting. Each giclee is individually hand-signed by Ellenshaw, then numbered by hand.