Sleeping Beauty: Fire & Fury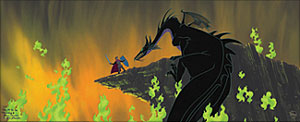 Among the many battles between good and evil in Disney's films, Prince Philip fighting the evil dragon Maleficent is one of the most dramatic moments in the classic and unforgettable 1959 feature film. This limited-edition cel recreates Scene 56, Sequence 19 of Walt Disney¹s Sleeping Beauty (1937). The overall film's visual style was inspired by the distinctive background artwork of Eyvind Earl. Under his influence, the film took on the look of a rich medieval tapestry.
Artists at the Walt Disney Studios Ink and Paint Department created each hand-inked, hand-painted animation cel using the original production drawings. Sixteen frames were selected, with just 7 cels created from each set of drawings for a total of only 112 works of art. This fine art Limited Edition Cel required intricate hand-inking, dry brush and trans-paint effects to faithfully recreate the color and detail of the moment.