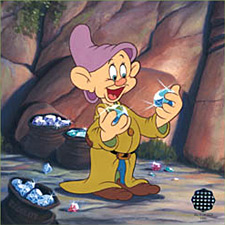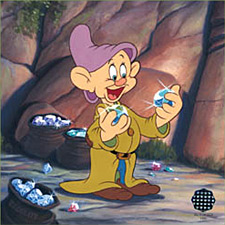 At the Seven Dwarfs' diamond mine, the seven little men dig, dig, dig "the whole day through." Unlike his fellow
jewel miners, however, Dopey takes his job just a little bit less seriously. It's not that playful Dopey is
unhelpful–it's just that he's easily distracted, especially by two oversized diamonds that match the sparkle in his
mischievous eyes.
This fine art edition recreates scene 4 from Sequence 12 of Walt Disney's Snow White and the Seven Dwarfs (1937). This delightful moment showcases one of the most memorable characters from Walt Disney's first animated feature. In developing the Dwarf characters for the film, Walt was determined to create seven unique individuals. Though each was a challenge for the animation team, "the boys couldn't seem to get Dopey at all," Walt later recalled. Voices were recorded and rejected. Even his name proved elusive and he was referred to as simply "Seventh" during development. Initial character design made the Seventh look stupid and unappealing. As Walt remembered, the artists "tried to make him too much of an imbecile, which was not what we had in mind. Finally, we thought of a way to put him across: make him human with dog mannerisms and intellect." Animator Freddie Moore redesigned a cuter, childlike Seventh, Walt came up with the name Dopey ("the best word I can think of for somebody's who's a little off-beat") — and when his animation staff despaired of ever finding the right voice, Walt again had the final word: "We just won't give him a voice. That will make him different." The end result is the most endearing of Snow White's Seven Dwarfs.