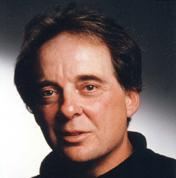 Michael Bedard was born and raised in Windsor, Ontario, Canada and eventually settled in Los Angeles in the late sixties. He first entered the art marketplace in 1977 with a series of whimsical and allegorical art prints – many of which are still in print today. Bedard's "Sitting Ducks" poster is one of the most widely recognized and largest selling posters in the history of the medium. He has consistently topped the list of best-selling poster artists for nearly twenty years. Very few artists can make a similar claim.
In the early eighties, Bedard was looking for a way to express a broad range of feelings about the human condition and wanted to use humor as a vehicle for addressing very serious issues such as vulnerability, alienation and anxiety, as well as social and political observations. Bedard chose the duck because it symbolized the vulnerability and attitude that comprises the human psyche.
The duck character was an excellent choice because of the nature of the animal itself. Even though a duck is vulnerable to attack by superior forces, this wonderful creature displays an aggressive attitude when confronted by danger. The duck's only defense is this bluff that creates uncertainty and fear with its adversaries. This attitude is what has made the duck an appropriate icon for challenging the problems that threaten us all. The duck characters immediately struck a chord with people about how fragile we feel in these modern times. The illusion that creature comforts create a safety zone from the dangers of life is so pervasive that many actually hide behind these paper-thin walls and feel protected.
The "Sitting Duck" message pokes a funny hole through this fragile concept. It shows that even when one is having a "safe" moment relaxing with friends on a lounge chair with a favorite drink; one can suddenly become a target of one of life's merciless hunters. That theme of vulnerability carries through the Bedard duck series and has allowed the artist to expand his concept to examine the frailty of politics ("Failure of Marxism" and "Failure of Capitalism") and even relationships ("Living Together" and "Ship of Fools").
Bedard says, "I had no idea that these little characters would become so popular but I take great pleasure in that they've become universally accepted. As an artist, I am grateful to be able to communicate through a vehicle that transcends all language and cultural barriers."
Bedard's work, both on the canvas and on the screen, is characterized by his uncanny ability to create an image with depth in both artistic quality and meaning. There is nearly always a social commentary that lies underneath his whimsical imagery. One must look beyond the simple visual statement employed by the composition to the real purpose of the painting — usually an important social issue that concerns us all.
Bedard has had numerous sold out one-man exhibitions in and around his current Los Angeles residence. His children's book, "Sitting Ducks", has won three prestigious international awards for children's literature and his children's television show of the same name is tremendously popular in 48 countries. In Japan nearly one out of two children watch the show. In 2001, Bedard received an Emmy Award for his made-for-TV movie, "The Santa Claus Brothers", which aired on Disney and ABC.