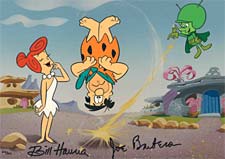 The Great Gazoo flips Fred in this classic moment from the original series. Among the most remembered Hanna Barbera characters, Gazoo appeared (and disappeared) in the 145th episode of The Flintstones in 1965. Gazoo was exiled from his home planet, Zetox, for inventing a device that could destroy the entire universe. As punishment, he was stranded on prehistoric Earth and made to serve the "dumb-dumbs" who found him-Fred and Barney. Gazoo can apparently be seen and heard only by Fred and Barney, animals, children, and his leader the Great Gazam.
Prior to The Flintstones, The Ruff and Reddy Show actually launched the Hanna Barbera studio into its incredible creative dominance of animation for television in 1957, followed by the Huckleberry Hound Show in 1958 and then the premiere in 1960 of the stone age hit The Flintstones. The popularity of space age events and UFO's at the time inspired the studio to create another family situation…but in the future.
This fabulous Limited Edition Cel is based on artwork from the original production and is signed by small screen legends Bill Hanna and and Joe Barbera.