Scooby Doo: A Tiki Scare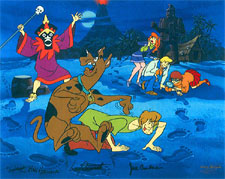 Scooby Doo is one of the most loveable canines in animation history, and starred in one of televisions longest running cartoon series. Here, Mano Tiki Tia gives Scooby a fright with the gang still clueless.
This fabulous Limited Edition Cel was created and signed by small screen legends Bill Hanna and Joe Barbera, and artist Iwao Takamoto who created Scooby.