Off Kilter by Chuck Jones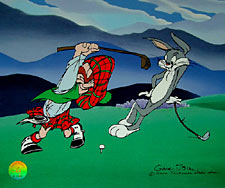 McRory will likely end up in the sand trap golfing with Bugs Bunny…inspired by the classic 1948 cartoon 'My Bunny Lies Over The Sea', this edition is based on artwork created by Chuck Jones. Bugs Bunny and the irascible Scotsman, McRory, are paired up at the crucial tee off by McRory that sends them on their way to a hilarious battle of the nine irons! Talk about 'tee for two!'
This hand-painted Limited Edition Cel is hand-signed by Chuck Jones.