What's Opera, Doc? – Kill Da Wabbit?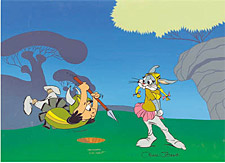 Kill da wabbit??? is an incredible edition featuring a moment from one of the greatest cartoons of all time directed by renowned animation artist and director Chuck Jones. Bugs Bunny and Elmer Fudd act out…er, perform the classic Ring.
Inspired by the original 1957 cartoon scene in 'What's Opera, Doc?', Jones created the original artwork used to produce this edition. Each cel is hand-signed by Jones, signifying his approval.